WELCOME to the Wayzata Public Schools
Community Education
Online Registration Site!

Eleyo is your source for browsing our offerings and enrolling in EARLY EDUCATION, HOME BASE and ENRICHMENT program. It can can also be used to reserve a Wayzata Public School facility.

To register you will need an account. If you are a returning customer, please sign in.

Please use your legal name when setting up an account. Once you've created your account, click on the Explore All Programs or to find out more about a specific program area, select the program title below and it will take you to the individual webpage.




Please scroll down for more options!
Early Education - Wayzata Early Learning School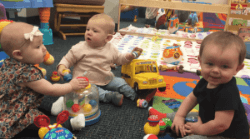 To view the Home Base/Bright Start Childcare Parent Handbook click here. Space is limited at all sites. To view the Home Base/Bright Start availability grid click here.
Home Base is a school-age before and/or after school care program.
Bright Start is a full-day pre-kindergarten program with before and/or after care included.
Open registration begins February 14, 2018 at 7:00 a.m for the 2018 Summer and/or 2018-19 School Year. To view the Summer 2018 site calendars click here. Please note: You will be directed away from the registration site to the WPS Community Education website.
Enrichment Programs and Facility Rentals